FanDuel Fantasy Golf – PGA is now at Fanduel

So if you watch much ESPN or listen to sports talk radio you have heard of FanDuel. They are the largest daily fantasy sports site in existence, with a healthy lead over their largest competitor, DraftKings.  I would love to play there myself, however at the current time FanDuel does not offer fantasy golf leagues.
Update April 4 2017
Fantasy PGA at FanDuel? Why Not? Yes Golf is Here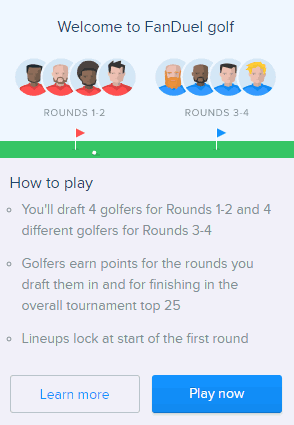 I have enjoyed playing fantasy golf at Draftkings for the past couple of years and finally FanDuel is coming on board. Since there are confirmed rumors of these two DFS sites joining / merging in the near future, getting PGA at FD makes sense.
Fanduel Golf Scoring and Rules
Here is how scoring is broken down:

If you want to see a more comprehensive Fanduel Golf scoring breakdown see this page.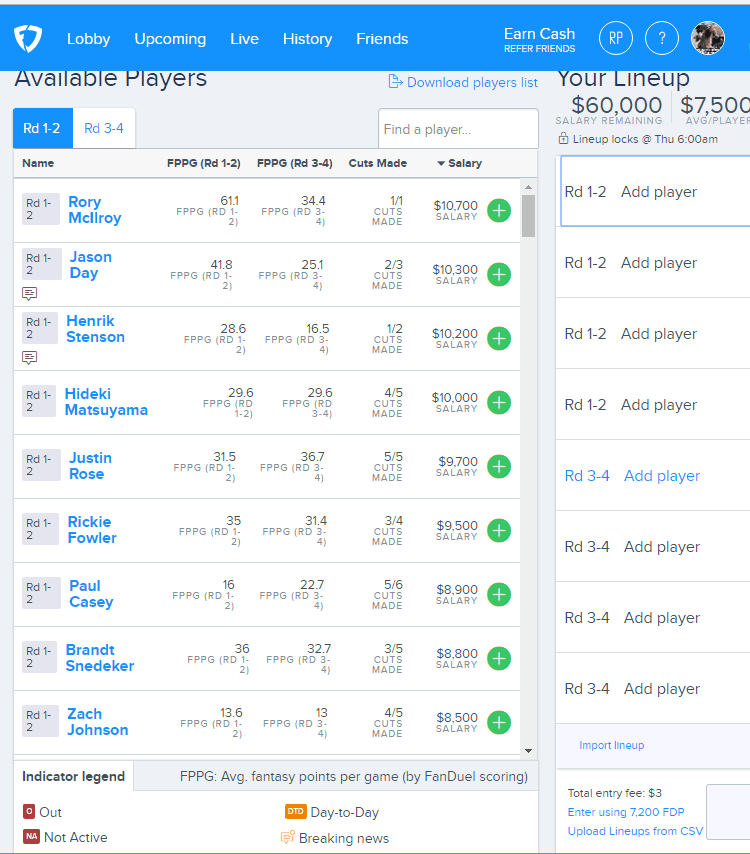 Draft two sets of four golfers. The first set earns points on the first two days. The second set earns points on the last two days. They all earn points based on tournament finish position at the end of the four rounds.
While I can not find the source, I recall a FanDuel rep state that they were not entirely comfortable with the legality of Fantasy PGA contests. They did not get into specifics of what they thought might not be quite up to the legal code but this is the current reason that they gave as to why they do not have fantasy PGA leagues.
FanDuel Now Adding Golf Product Designed To Not Violate UIGEA
Previously Fanduel was concerned with the legality of PGA because of the one event rule in the UIGEA. There has to be more than one professional event for fantasy to not be illegal. Golf is four rounds and arguably four events.
Edit – Found the source when they mentioned the legality concerns:

@BillMarrion Glad you've enjoyed playing here on FanDuel. At the moment, we're not comfortable with the legality of fantasy golf.

— FanDuel (@fanduel) May 7, 2014
Isn't Fantasy Golf Legal?
Well, I suppose that is a question for lawyers and we are not one. FanDuel doesn't want to risk it. My guess is because it could be argued that a PGA tournament, even though it is four rounds of golf across four days, could be construed as one event. And I believe that there is some language that could be read to say that fantasy contests must not take place involving only one event. That's why you do not see any superbowl only fantasy contests on FanDuel or DraftKings.
However, as the other fantasy golf sites have decided, fantasy PGA contests are legal. Scoring takes place on a hole by hole level, on a tournament level and via streaks. Of course FanDuel is probably just waiting until things are more clear before they offer fantasy golf contests. If and when they do, I will be there for sure.
Where Can You Play Fantasy Golf Besides Fan Duel?
You can play at DraftKings and DraftStreet. The 2nd and 3rd largest fantasy sports sites are comfortable enough with the legality of fantasy golf and have a handful of cash leagues each and every week.
FanDuel – Visit FanDuel (golf is here!)
FantasyDraft – Golf games running every week at FantasyDraft